Laptop , Monitor , SSD , Thunderbolt Dock , eGPU
What You Get:

1x FOINNEX Thunderbolt 4 (USB-C) Cable 1ft




Your Satisfaction is Our Primary Policy

We sincerely provide 24-hours service, obviously, there are no worries hidden for you to purchase FOINNEX Thunderbolt 4 cable!
For questions and problems,
you can always get in touch with our support desk,
so we can get you back, up and running.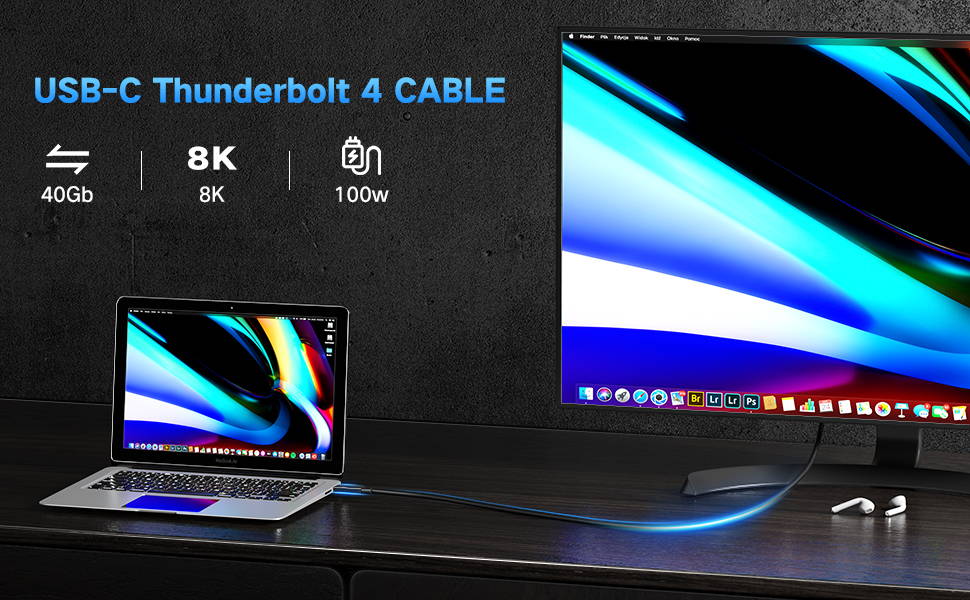 FOINNE Thunderbolt 4 Cable
FOINNE Thunderbolt 4 (USB-C) Cable is ideal for large volume data and Ultra HD displays - transferring data between Thunderbolt 3/4 devices at up to a staggering 40Gbps
FOINNE USB C to USB C Thunderbolt 4 cable also supports power delivery up to 100 Watts, and can daisy chain up to six Thunderbolt 3 devices. Get the most from all your Thunderbolt 3/4 peripherals with the ultimate smart, high-speed cable.
Use this cable to connect a devices with Thunderbolt 3 or 4 (USB-C) ports to Thunderbolt (USB-C) and USB devices, such as docks, and hard drives.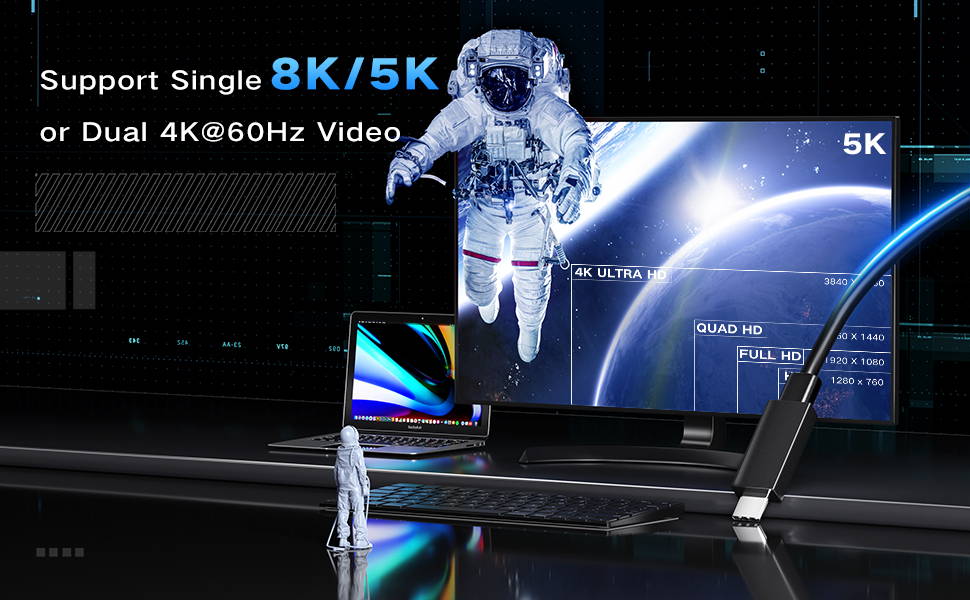 High-Performance Connectivity
Supports Thunderbolt 3, Thunderbolt 4, and USB 4 data transfer up to 40Gb/s, USB 3.1 Gen 2 data transfer up to 10Gb/s.
Supports high-speed charging up to 100W (20V/5A) when used with a compatible charger.
Display 8K/5K video on a single screen, 4K content on two screens at the same time.
Connectors are made of High Gloss Polycarbonate. 1ft length for convenience.
Ability to connect to Thunderbolt 3/4 Hosts and Peripherals. Suitable for eGPU.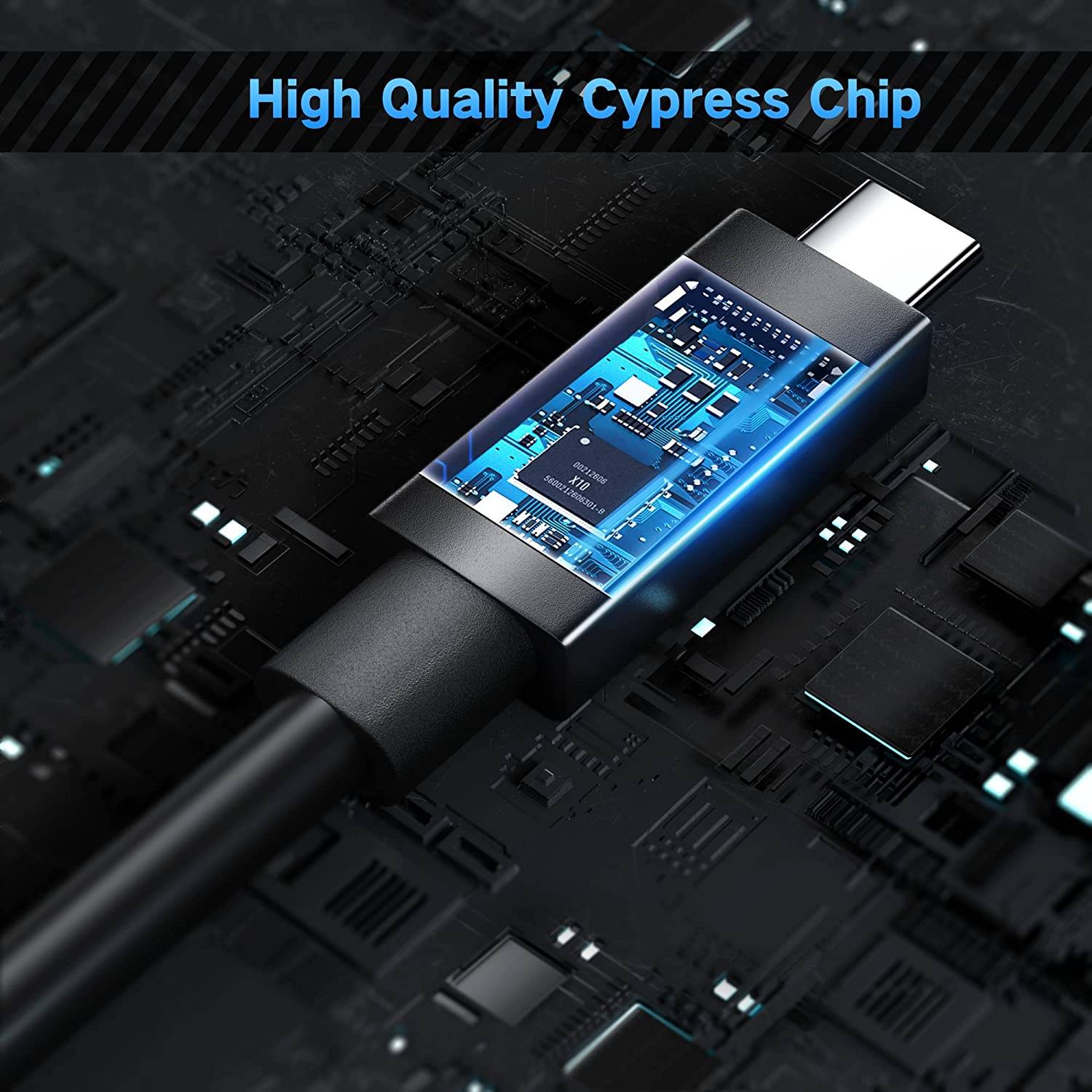 The greatest Cypress chip and High Quality Assurancel
We use the greatest Cypress chip, wire and production process to achieve 40Gbps at 1ft. Upgraded 3D aluminum connector, high Polycarbonate cable adds additional durability and tangle free.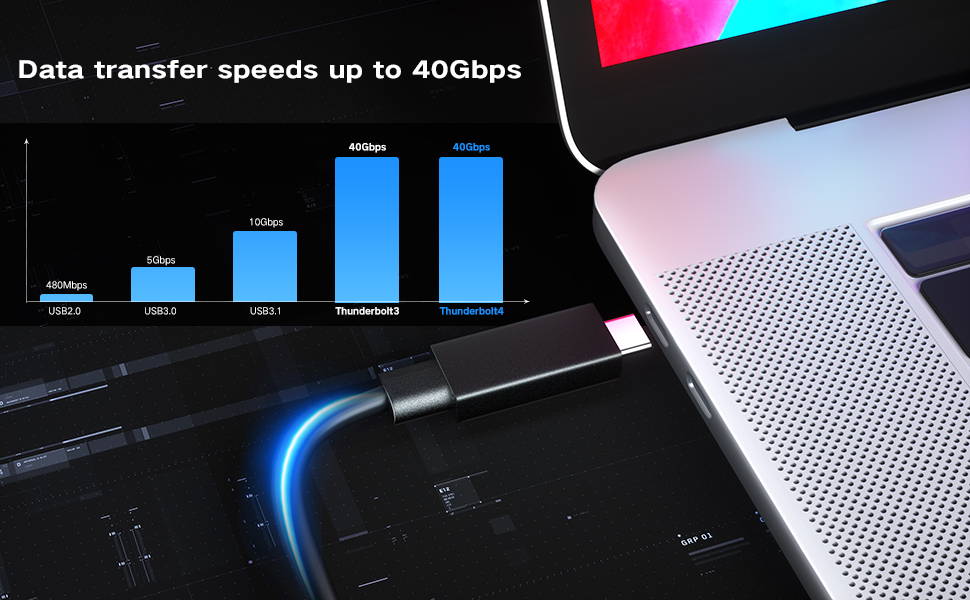 100W Fast Charging for Macbook
Use Thunderbolt 4 Cable to connect to a USB C charger for fast charging up to 100w.
FREQUENTLY ASKED QUESTIONS

Will this work with a Thunderbolt docking station?
Yes, this USB C to USB C Thunderbolt 3 Cable can work with a Thunderbolt docking station. And Thunderbolt cables work much more reliably at respectable speeds.
Will this cable work well to connect an egpu to MacBook Pro?
Yes. I used it to link my eGPU to MacBook 2020 with thunderbolt 3 and it works great.
it is this a passive or active thunderbolt 3 cable ?
Can this support super fast charging from the galaxy note20?
Yes, FOINNEX Thunderbolt 3 Cable can support up to100W fast charging.
Yes, works perfectly with egpu.
Is it a usb-c to usb-c cable? is it two-sided or single-sided?
Hello, it is a usb-c to usb-c for Thunderbolt 3/4 cable.
If there is anything we can do for you, feel free to tell us.
Can't find an answer to your question?

Email us at service@foinnex.com

Free Shipping On Orders Over $30
Free worldwide shipping applies to orders of $30 or more.
There will be a 15% discount on the total price for the first order.
All of the products are covered by our 60-Day Return Policy.
All payment transactions are secured by multiple reputable payment gateways.