Male-to-Female, Mini DisplayPort Male to to VGA HDMI DVI Female Adapter
Mini DisplayPort to VGA HDMI DVI Adapter
Mini DisplayPort to VGA HDMI DVI Adapter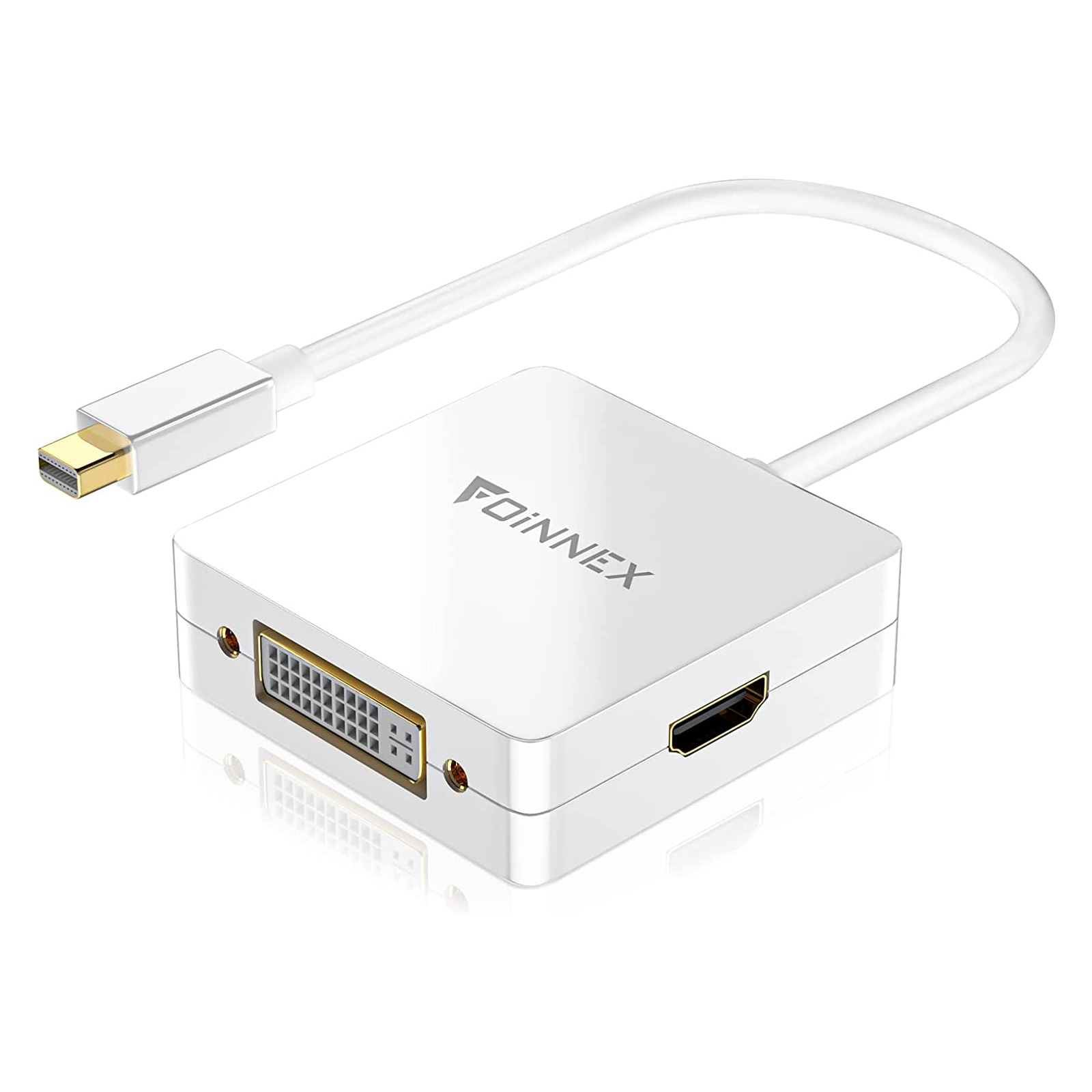 For questions and problems,
you can always get in touch with our support desk,
so we can get you back, up and running.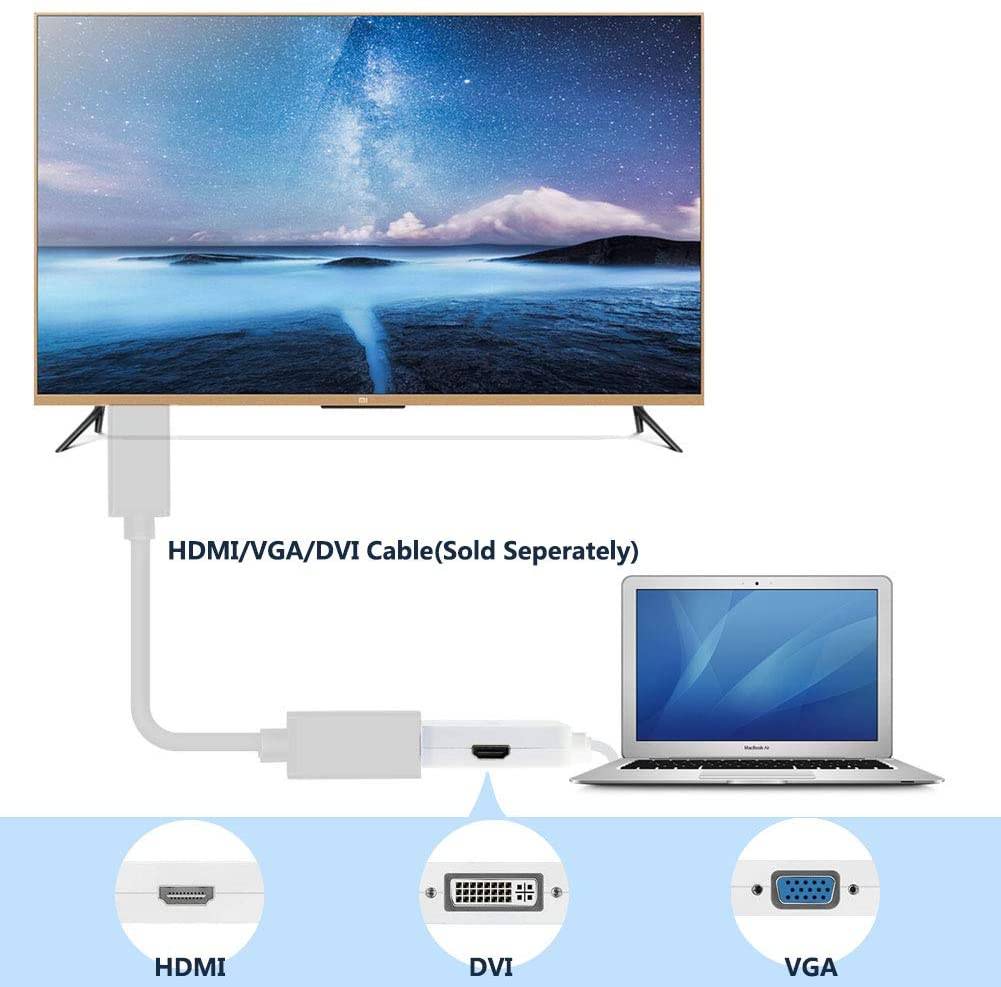 3 IN 1
NO More Adapter is Needed
FOINNEX Mini DP to HDMI VGA DVI Adapter adopts Original PARADE and ANALOGIX chipset, making it more compatible with much more devices of different brands.
Mirror Mode or Extend Mode
Under mirror mode,you can copy your display, feast your own home theater. Under extend mode,
you can expand your work station, balance work and entertainment.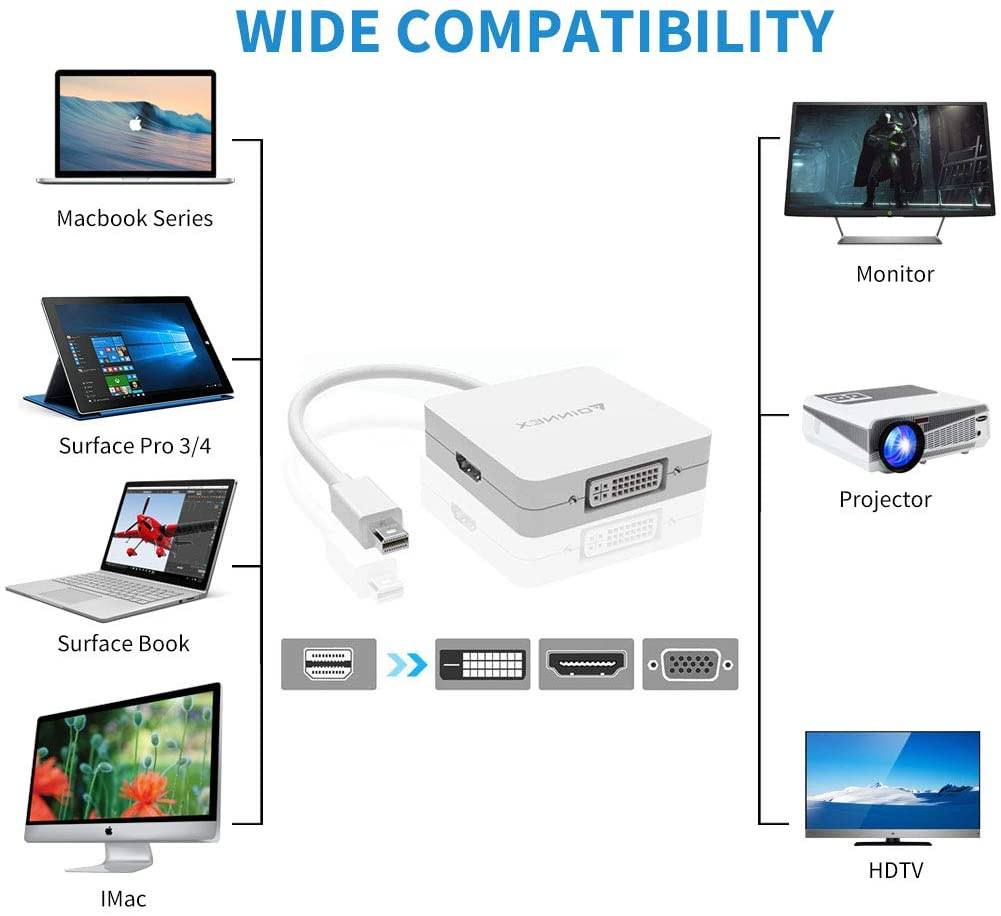 Compatible with Apple Mac Mini, MacBook Pro, MacBook Air, Microsoft Surface Pro 6 5 4 3, Surface Book, ThinkPad X1 and other devices with a mini DP or Thunderbolt 2 port.
Note: Due to the devices' updating, please confirm the I/O interface type before purchasing.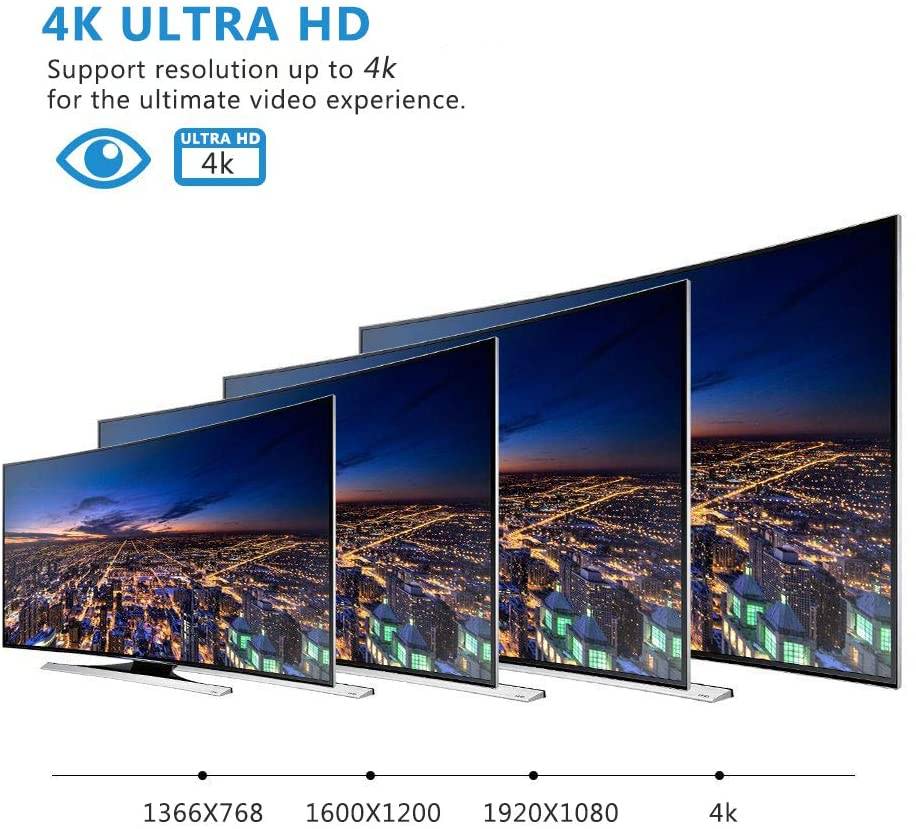 Supports resolution up to 4K providing clear and vivid images, better video-watching experience.
Mini Displayport to vga is just a converter, so the cable of your product must also support 4K to display correctly.
FREQUENTLY ASKED QUESTIONS

Will this interface work from an vga source to project the image through the thunderbolt port to the macbook air?
Please don't take Macbook air as a display monitor,Apple would be unhappy, The thunderbolt Port on the Macbook Air is a output interface,it is not bi-directional.
Would this work using my macbook air connecting with a dell model e2318hr monitor?
Yes, if your Air has a mini display port.
What is the different between thunderbolt and mini displayport?the same for mac and surface?
Thunderbolt is a specialized type of Mini DisplayPort connectivity. Although the shape and size of the connector is the same, it does more and does it faster.The new Thunderbolt 3 technology uses a USB-C connector, with even faster speeds and up to 100W of power-over-cable. It is backward compatible with Thunderbolt 1 and 2 devices using an adapter.Our adapter can works with Mac and Surface with mini displayport well, not for thunderbolt 3 (USB C)
Can i use this producto to plug and vga and an hdmi simultaneously to my laptop?
Can't find an answer to your question?

Email us at service@foinnex.com

Free Shipping On Orders Over $30
Free worldwide shipping applies to orders of $30 or more.
There will be a 15% discount on the total price for the first order.
All of the products are covered by our 60-Day Return Policy.
All payment transactions are secured by multiple reputable payment gateways.