Lighting Ethernet Adapter
What You Get:

1x Ethernet Adapter Compatible for Phone




Note:

1. Please use the charger with 30W or more to charge the adapter.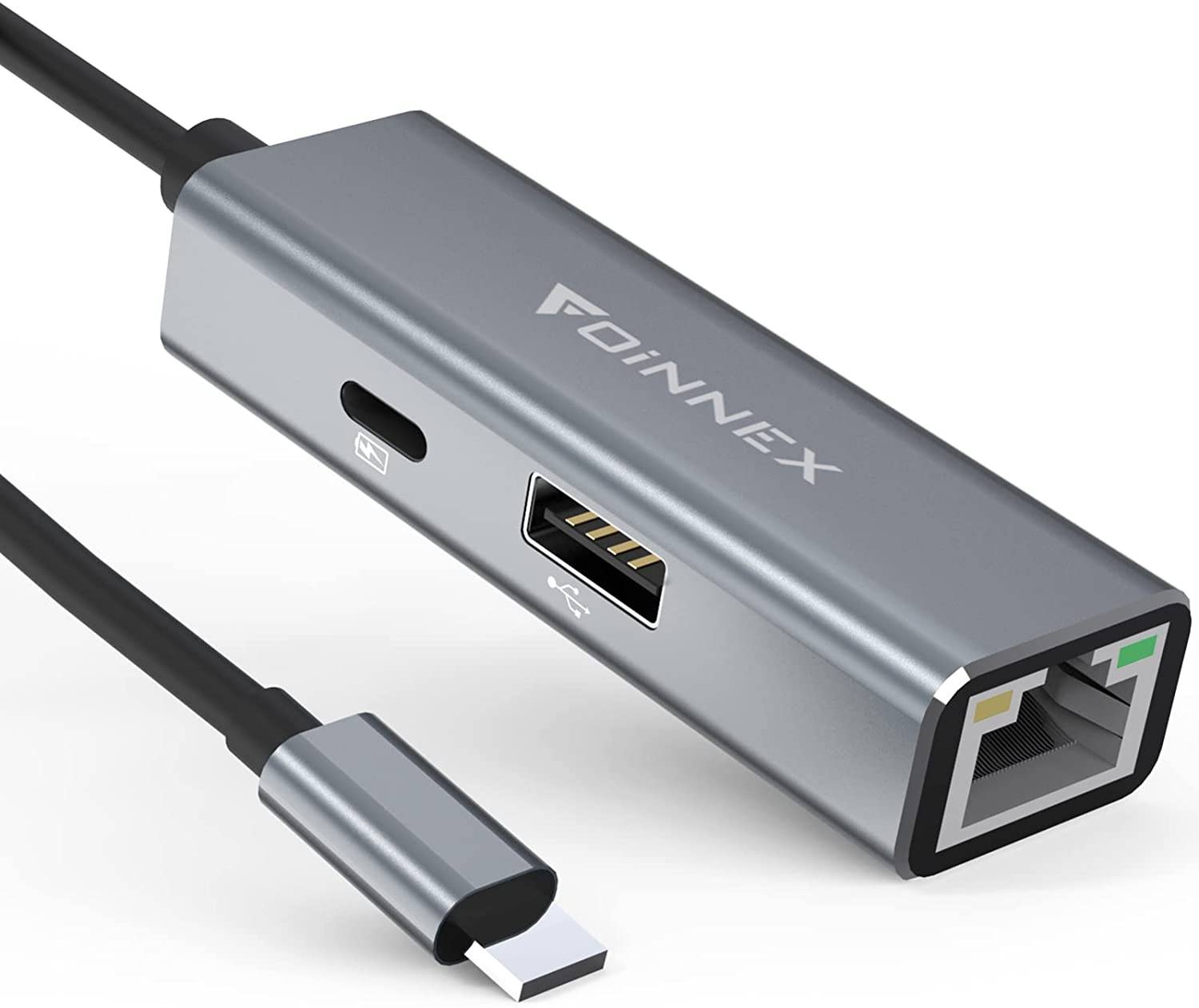 For questions and problems,
you can always get in touch with our support desk,
so we can get you back, up and running.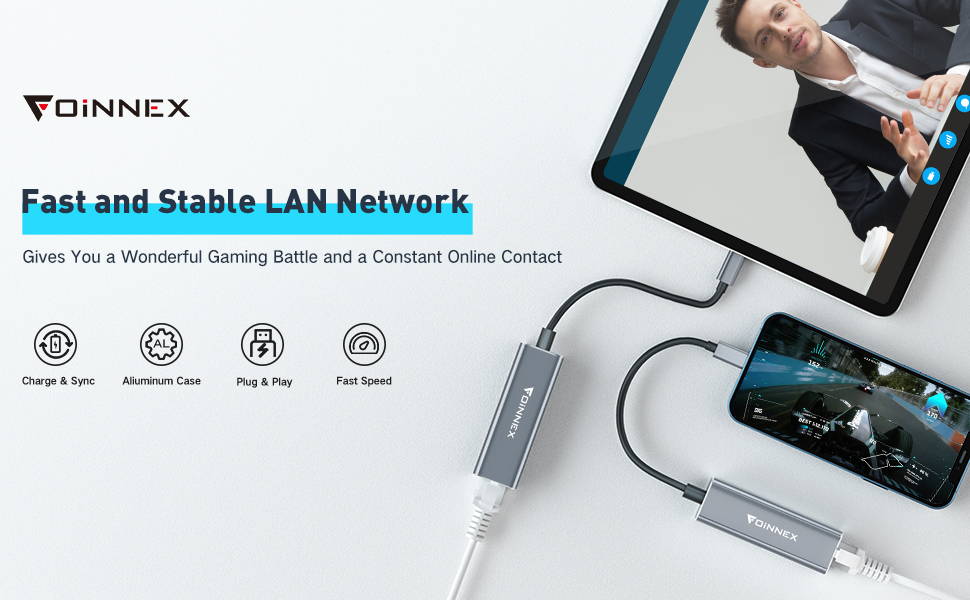 Plug and Play for Apple Ethernet Adapter
FOINNEX iPhone Ethernet Adapter offers stable and fast network(10/100Mbps) for your online meeting and Entertainment like watching movies and playing games. Meeting will no more frozen and latency.
USB port and PD port on our Ethernet to Lightning Adapter provide power and data to your devices, which will keep your tablet and phone powered throughout the day.
With USB port, it is easy to transfer photos or videos from USB Flash drive/camera to your iPhone /iPad or between two IOS devices at USB speed. It's convenient for your business trip.
Connect USB peripherals, like Keyboard for typing text fast, Headphone, Microphone, USB Fan, Digital camera, etc.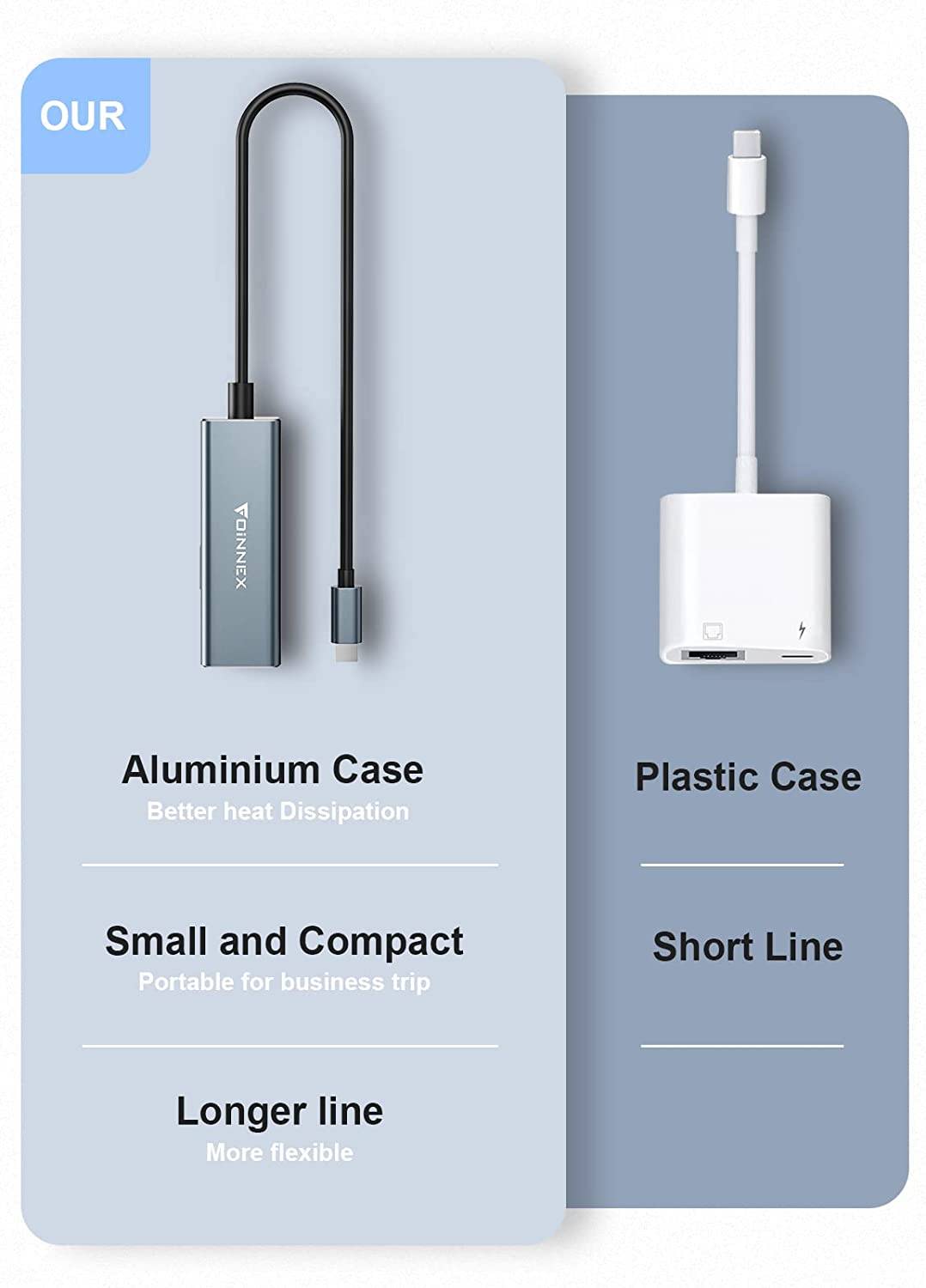 Compatible with iOS 9.3 and later Versions (latest iOS 13). Compatible with iPhone X/ XS/ XR/ 8/ 8 Plus/ 7/ 7 Plus/ 6s/ 6s Plus/ 6/ 6 Plus. Compatible with i-Pad Air/Air2. Compatible with i-Pad Pro 10.5-inch/ 12.9-inch (2nd Generation)/ 12.9-inch (1st Generation)/ 9.7-inch. Compatible with i-Pad mini 4/ mini 3/ mini 2/ mini, with Pod touch 5/6 etc.
USB Peripheral Devices
How to transfer photos or videos from your camera or i-Phone
*the video has to be MOV format
1. Connect the adapter to your device and connect the Lightning port for charging;
2. Connect your camera or IOS device to the adapter via an USB cable;
3. Then your device will open the photos app automatically.
Transfer data
When transfer from SD cards or U disk, please notice:
a) The file, in which the photos are, should be renamed as DCIM(dcim);
b) The photos or videos that you are going to exported should be renamed as IMG_xxxx(the xxxx can be any four numbers).
Power needed when using USB port
iPad Ethernet Adapter allows your iPad to connect LAN network and use a iPad mouse, keyboard and other USB peripheral devices.
Portable for Business Trip
Foinnex Lightning to Ethernet Adapter is a perfect choice for you to connect wired network when you're checking in a hotel without WIFI on a business trip.
FREQUENTLY ASKED QUESTIONS

Does this adapter require external power?
This enthernet adapter for iphone dones't require the external power, and if you need, you also can charge your iphone/ipad while using through the lighting port.
Will this function with an iphone 7+ with ios 14.4 and possible future updates?
So far it has I use it regularly, as for the future, I'm not the designer can't answer that, I would be at a lose now if I didn't have this
Can you use mobile data and use it to put internet to a ps4?
No, this ethernet adapter only can work with iphone/ipad that has the lighting port, and it can't work with a PS4
The ethernet adapter for iphone/ipad have usb 3.0 or 2.0 port? looks like 2.0 only.
This ethernet adapter for iphone/ipad has the USB 2.0 port, not ths USB 3.0.
Can't find an answer to your question?

Email us at service@foinnex.com

Free Shipping On Orders Over $30
Free worldwide shipping applies to orders of $30 or more.
There will be a 15% discount on the total price for the first order.
All of the products are covered by our 60-Day Return Policy.
All payment transactions are secured by multiple reputable payment gateways.