DisplayPort Female, Male-to-Female, HDMI Male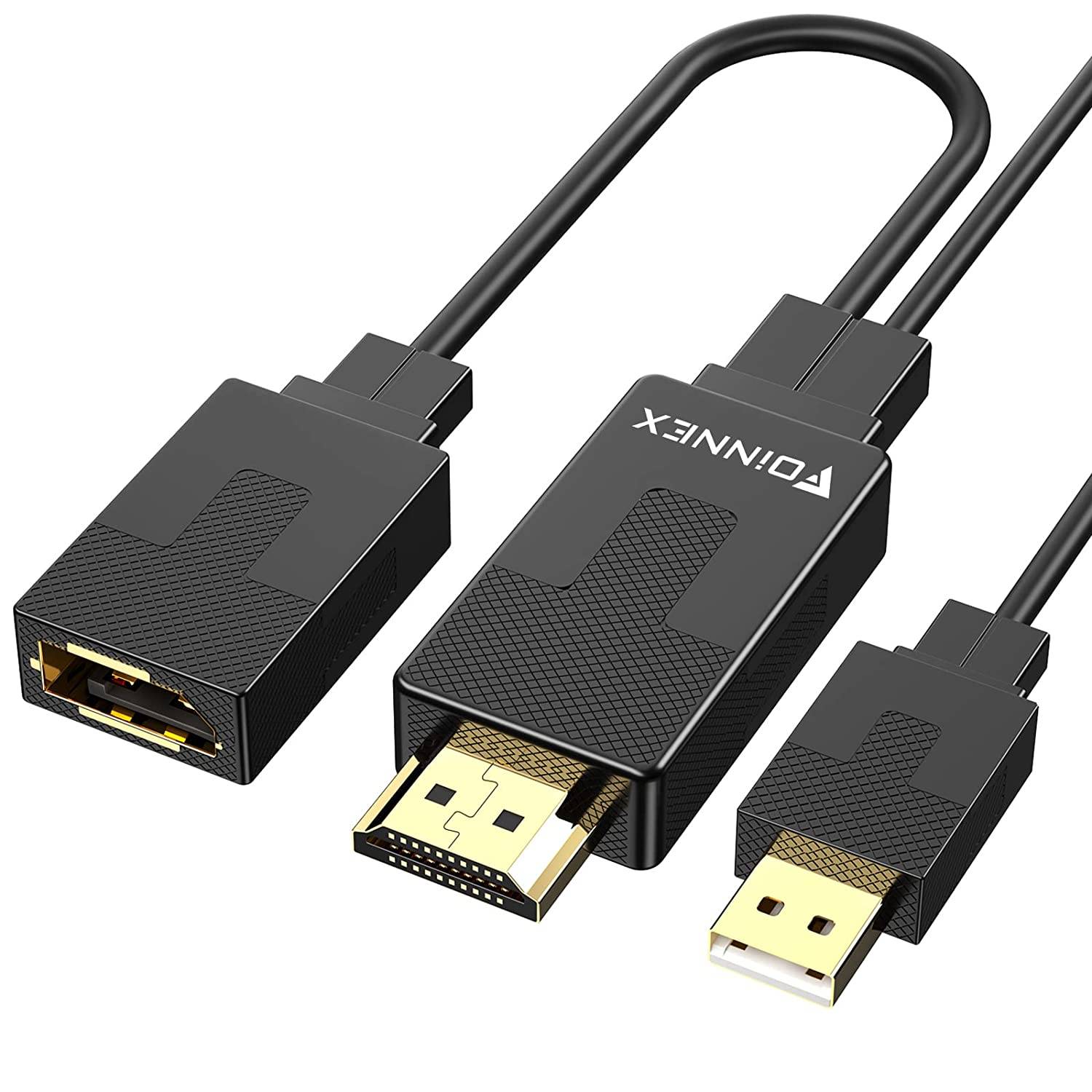 For questions and problems,
you can always get in touch with our support desk,
so we can get you back, up and running.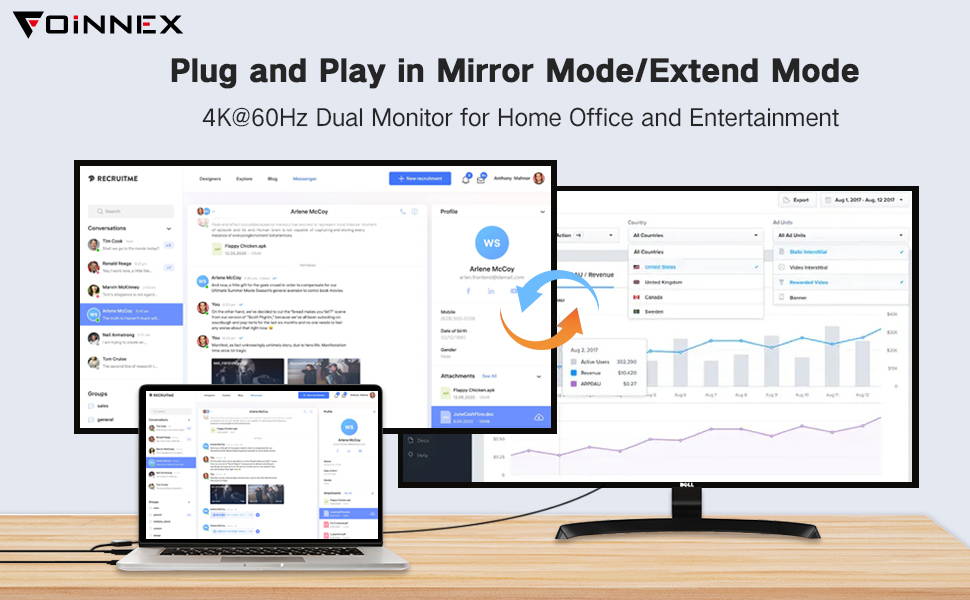 Plug and Play in Dual Monitors for Work and Fun
FOINNEX HDMI to DisplayPort Adapter supports max resolution 4K (3840*2160@60Hz), will offer you a great visual experience on pictures and video.
Allowing your HDMI computer, Graphics Card, or other source devices to work with the DisplayPort display for business, home office, entertainment, conference rooms, and more.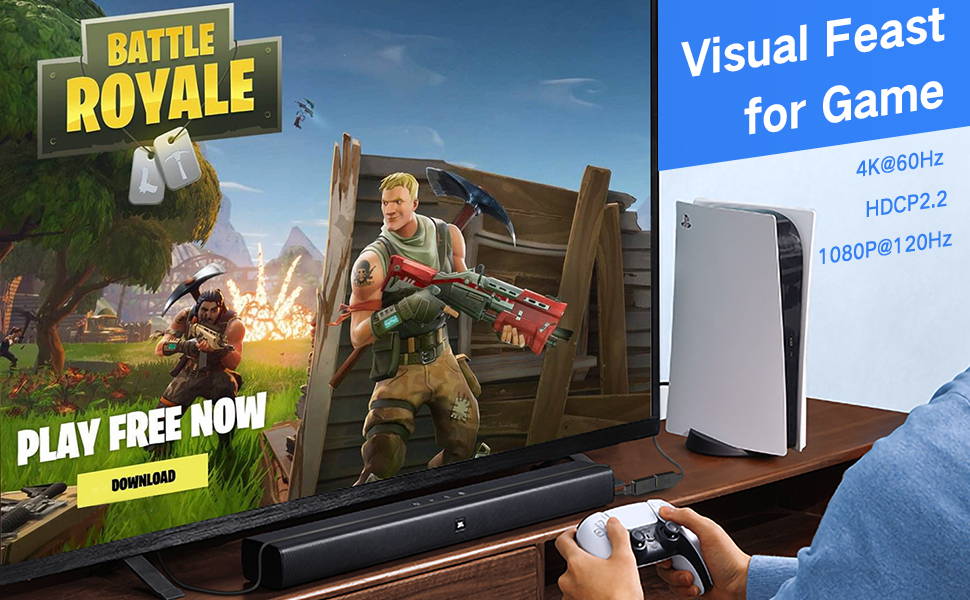 Enjoy Game on a large DisplayPort Monitor
Multi-input sources(HDMI/VGA/DisplayPort etc)devices please select DisplayPort input source first.
Devices like XBOX One may have HDMI In and HDMI Out ports, some monitors may have DisplayPort In and DisplayPort Out ports.
Please use HDMI Out to connect DisplayPort In, otherwise, it will not display images.
Compatible with PS3, PS4, Nintendo Switch, XBOX, video game console to DisplayPort monitors.
*GAME CONSOLES supports 4K@60Hz (such as XBOX One S) will display the game with its native.

Only transmits the signal from HDMI to DisplayPort, not bidirectional. DisplayPort to HDMI will not make work.
This is an HDMI male to Display Port female adapter, DP extension cable sold separately.
FREQUENTLY ASKED QUESTIONS

what's the USB cable for?I don't understand why there's an usb cable?
The USB cable is used to support power for low-voltage devices like PS3/PS4. Please remember to plug the USB cable.
Does this support 1920x1080 @144hz?
No. The max resolution is 4K@30Hz 1080P@60Hz.
Can xbox one s use this hdmi to dp cable?
Yes,xbox one s can use this FOINNEX Active HDMI to Displayport Adapter Cable. But please note that GAME CONSOLES with native 4K @60Hz (such as XBOX One S) will display in 1080p.
Would like cable/connection enable the freesync on asus mg28uq via xb1x? the monitor has freesync but not on the hdmi connection - only the dp
FreeSync is for Onboard Devices only
Will this connect using my laptop usb ports?
Hi sorry, this is a hdmi to displayport adapter, convert signal from hdmi to dp. The USB cable is to supply power only.
Does the hdmi to displayport adapter support 2560x1440 resolution at 60 hz?
This hdmi to displayport adapter supports 2560x1440@30Hz, 1080p@60Hz.
Will this cable work for the PS5 to a 2k 144hz monitor?
No it will not work, won't work for the series x or one x for 1080@120hz. Says it won't work for consoles in one of the images
Can't find an answer to your question?

Email us at service@foinnex.com

Free Shipping On Orders Over $30
Free worldwide shipping applies to orders of $30 or more.
There will be a 15% discount on the total price for the first order.
All of the products are covered by our 60-Day Return Policy.
All payment transactions are secured by multiple reputable payment gateways.