HDMI to Mini Displayport Adapter
What You Get:

1x HDMI to Mini Displayport Adapter




Note:

1. Not bi-directional. Only converts signal from HDMI to Mini DP.

2. This adapter is NOT compatible with monitor of Thunderbolt interface and Apple Thunderbolt Display.

3. The USB powered cable is optional for power, which optimizing its compatibility with low-voltage devices, like PS3,PS4 and Blu-ray Player etc.

4. We suggest do not use a Thunderbolt cable, but use a mini displayport is OK.( since a Thunderbolt cable is a little different)
For questions and problems,
you can always get in touch with our support desk,
so we can get you back, up and running.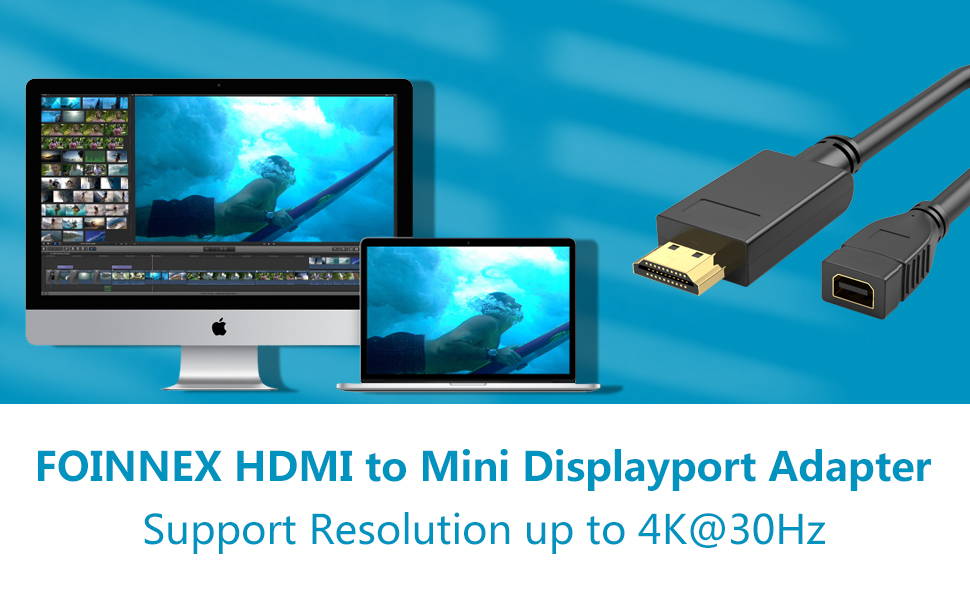 HDMI to Mini Displayport Adapter
FOINNEX HDMI to Mini Display port adapter/converter hook up computer, desktop, laptop, Macbook, Apple TV, Mac Mini, Raspberry Pi, Intel Nuc, Roku, PS3, Xbox One, Xbox 360, Wii U, Set Top Box, TV BOX or other devices with HDMI port to TV, monitor or projector with Mini DP port for video streaming, gaming or sharing content.
Notice:
1. Not bi-directional. Only converts signal from HDMI to Mini DP.
2. This adapter is NOT compatible with monitor of Thunderbolt interface and Apple Thunderbolt Display.
3. The USB powered cable is optional for power, which optimizing its compatibility with low-voltage devices, like PS3,PS4 and Blu-ray Player etc.
4. We suggest do not use a Thunderbolt cable, but use a mini displayport is OK.( since a Thunderbolt cable is a little different)
Supports Resolution up to 4K*2K@30Hz
Incredible Performance,the HDMI Male to Mini Displayport converter supports 4K@30Hz and 1080p(Full HD) and uncompressed digital audio channels, enjoy home theater with 4K high resolution.
Tuck this lightweight gadget into your bag or pocket to do a business presentation or extend your desktop screen to a monitor with Mini DP port.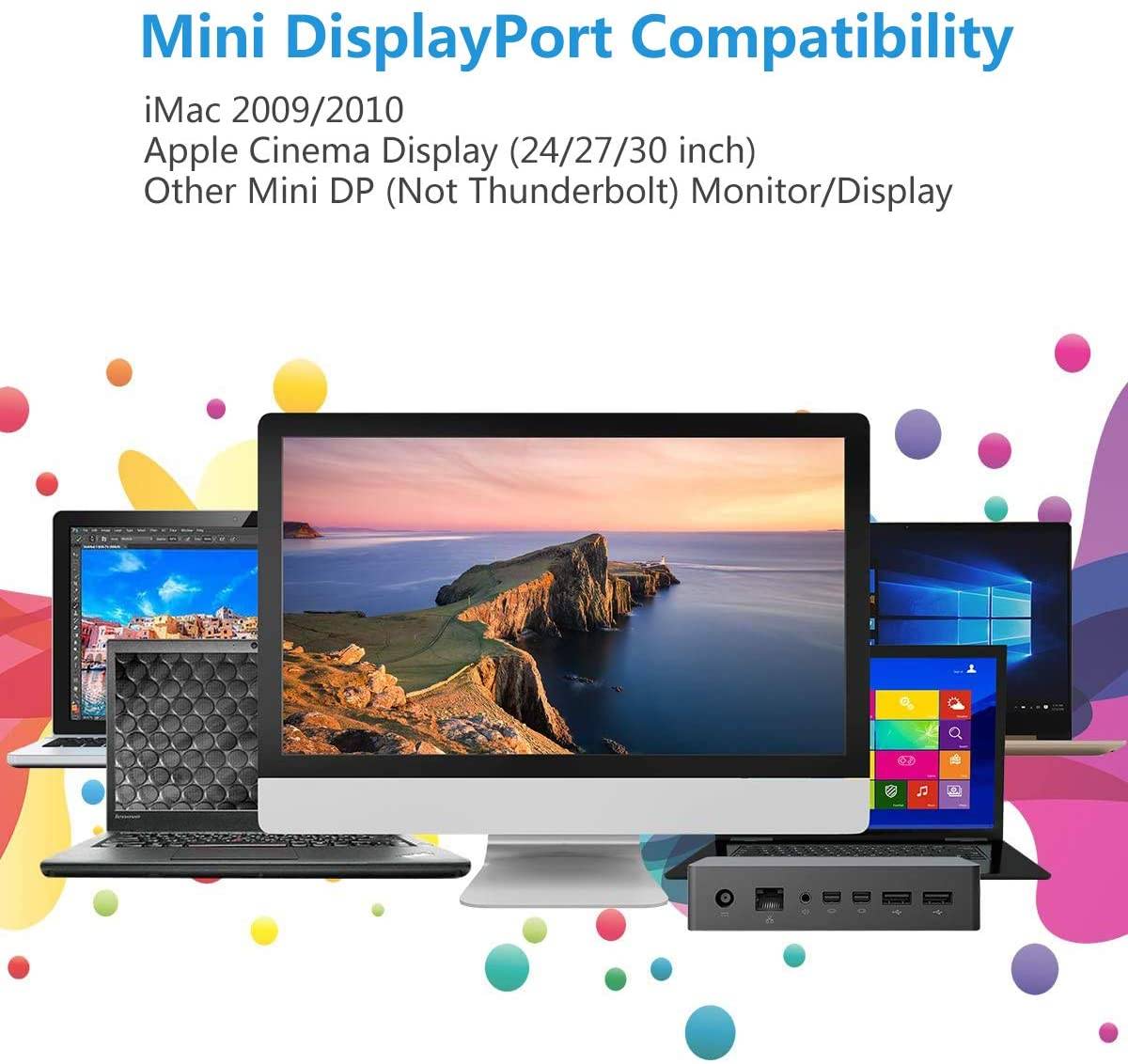 Compatible Monitors:
✔ Apple Cinema Display 27-inch (MC007LL/A)
✔ Apple Cinema Display 24-inch (MB382LL/A)
✔Apple Cinema Display 30-inch (M9179LL/A), need an official Apple Mini DisplayPort to Dual-Link DVI Adapter
✔Pre-2011 iMac equipped with Mini DisplayPort
✔Other brands monitor with Mini DisplayPort/Displayport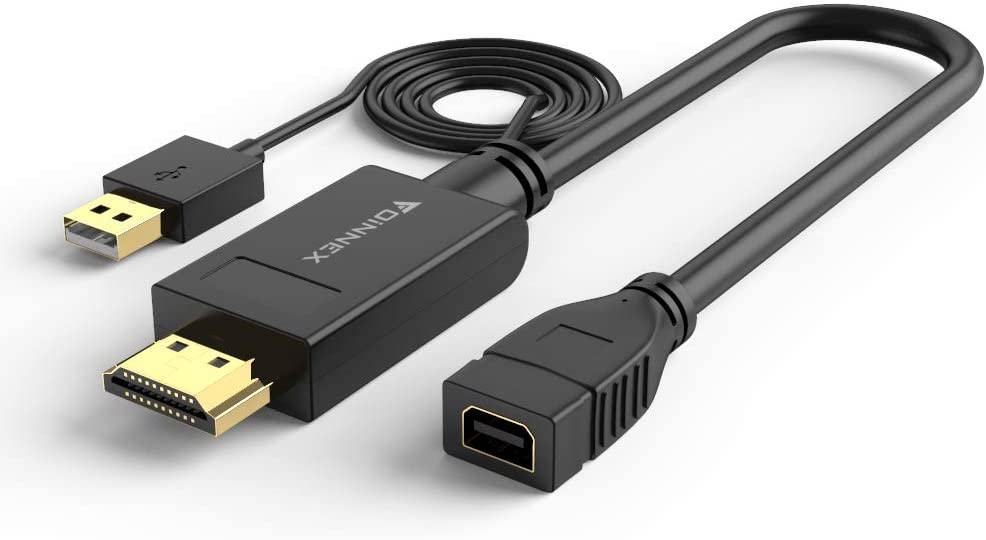 ✗NOT compatible with iMAC 2011-2014 with Thunderbolt port
✗NOT compatible with Apple Thunderbolt Display(Apple 27" Thunderbolt Display MC914LL/B)
✗NOT compatible with any Thunderbolt Devices / Monitors / Connectors / Cables / Hard Drives.
(Mini DisplayPort and Thunderbolt are different
FREQUENTLY ASKED QUESTIONS

Could I connect PS4 to apple led cinema display 30?
Yes, but please notice, for the ps4, you need connect the usb cable for power supply.
I want to use my old 24" apple cinema as a monitor to my HP laptop, will this work?
Will this work to connect the mac mini to a apple 27' cinema display?
Hi, this hdmi to mini displayport adapter will work for connecting the mac mini to a apple cinema display.
Will this allow me to connect dell laptop to my apple 27" thunderbolt display
Sorry, this hdmi to mini displayport adapter can't work with the thunderbolt display, mini DisplayPort and Thunderbolt are different.
Can't find an answer to your question?

Email us at service@foinnex.com

Free Shipping On Orders Over $30
Free worldwide shipping applies to orders of $30 or more.
There will be a 15% discount on the total price for the first order.
All of the products are covered by our 60-Day Return Policy.
All payment transactions are secured by multiple reputable payment gateways.