Compatible operating systems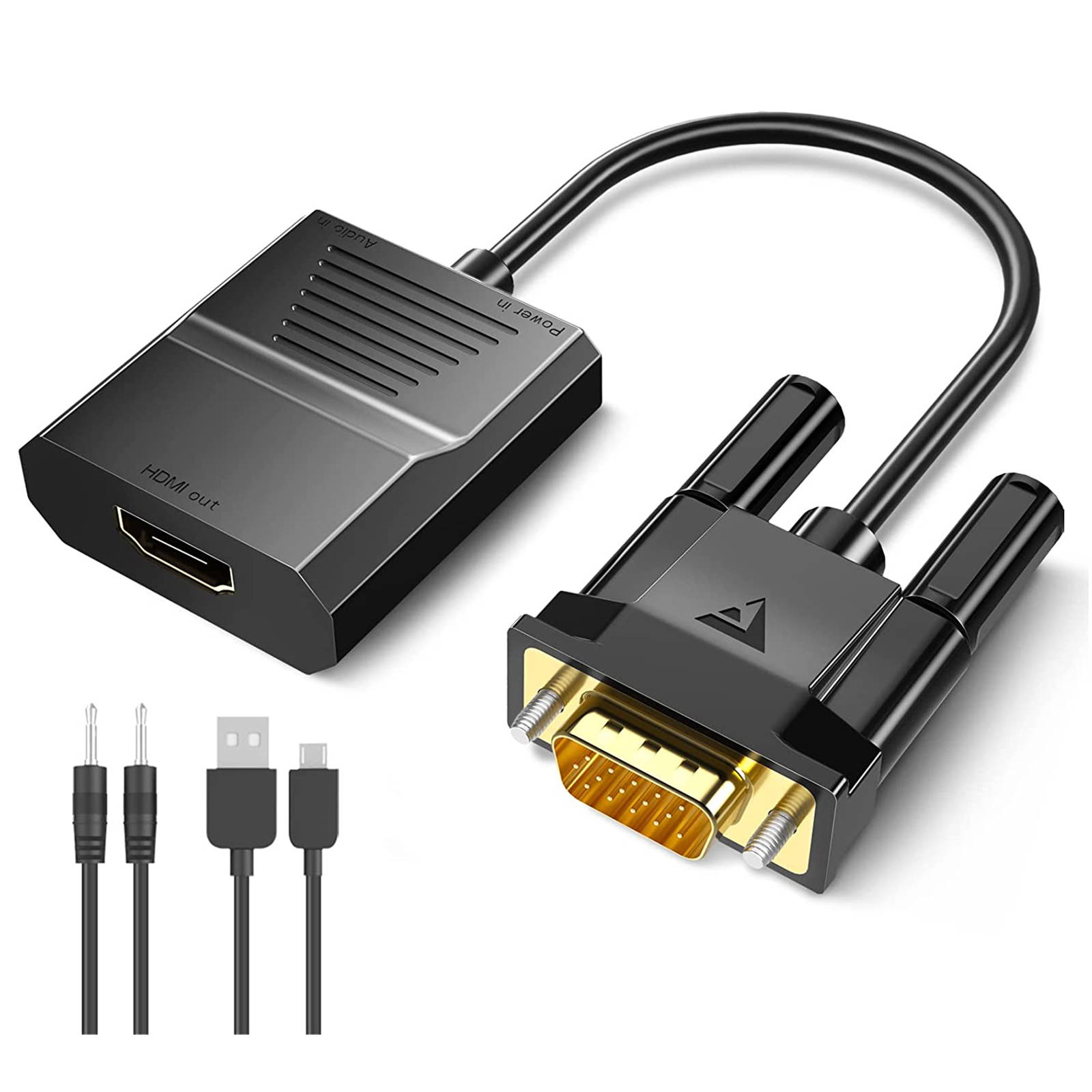 For questions and problems,
you can always get in touch with our support desk,
so we can get you back, up and running.
VGA to HDMI Adapter with Audio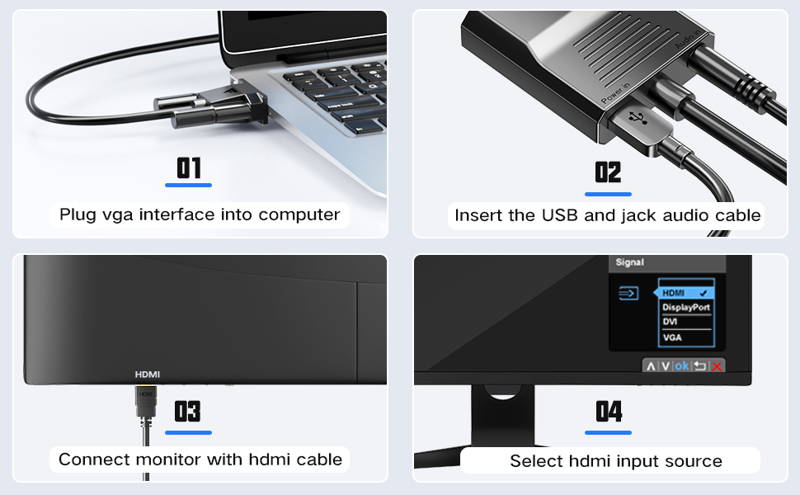 1.Insert the VGA into the computer (desktop/laptop/notebook/DVD)
2.Insert the USB into the related interface on computer for getting the supplementary power.
3.Insert the 3.5 Mini Jack into the Audio output on your source device (PC, Laptop etc.)
4.Insert the HDMI to displays with HDMI female interface. (TV, monitor,projector or display screen)
5. If there are more than one inputs on your displays.


Generally, signed as HDMI 1/HDMI 2, /HDMI 3 or DVI/DP/HDMI and others
Please select the corresponding HDMI input interface on your TV screen.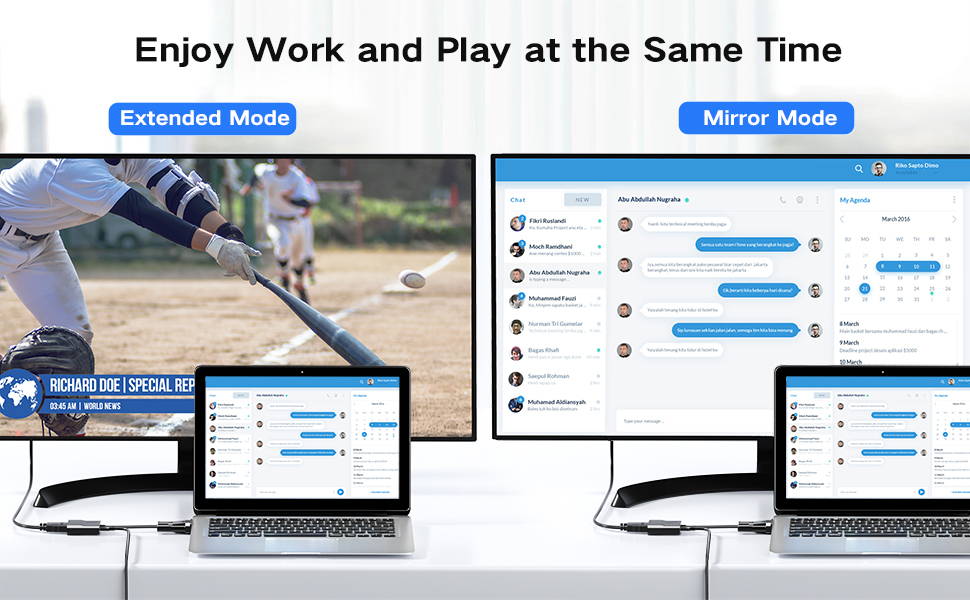 Easy to deal with Multiple Scenarios
Two modes of use
Our vga to hdmi adapter converter can effortlessly add a second monitor or display to your pc / laptop. It can be viewed in mirror mode and expand mode.
Broad compatibility
VGA male to HDMI female adapter Compatibility mode: VGA / HDMI cable converter Commonly used system: Win7, Win8, Win10.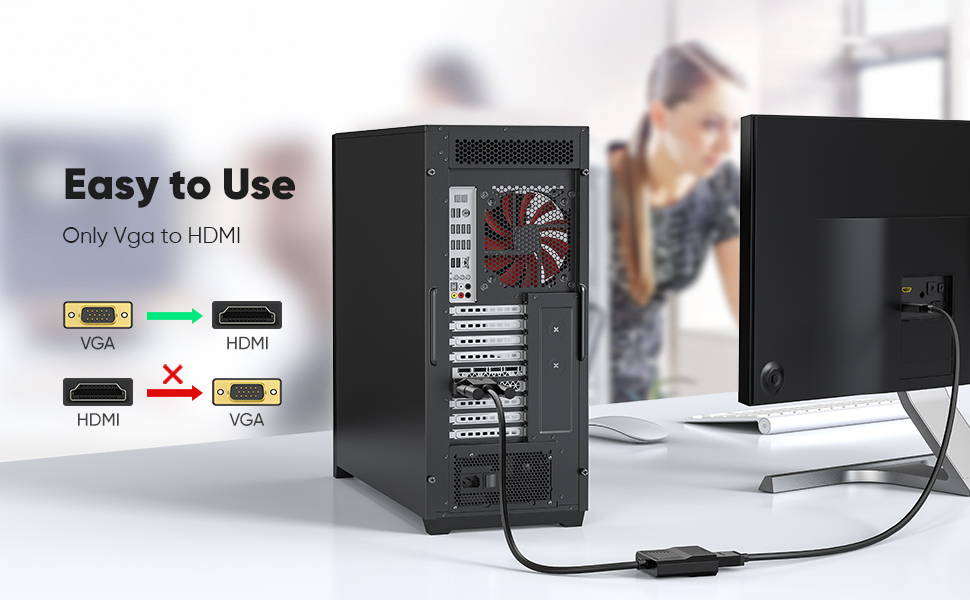 0.5M VGA to HDMI Adapter with Audio
FOINNEX 0.5m vga to hdmi adapter for monitor, share your video/audio/data from PC or Old-styled laptop, Desktop,DVD that has only VGA ports to any HDMI-equipped devices like Smart TV, monitor, projector and display for big screen viewing.
NOTE:The signal can only be transmitted from a device with a VGA port to a device with an HDMI port.
FREQUENTLY ASKED QUESTIONS

I have a 2 monitor setup with hdmi ports but a pc with only 1 hdmi port & 1 vga. can i use this to run an hdmi cord from my monitor to my vga port pc?
Yes, this is the adapter you need. Plug this into your pc (output) then plug the hdmi cable from the monitor (input) to the adapter. Remember these are usually unidirectional, in other words this won't work if your output source is hdmi and you're sending the signal to a vga input. That's a different adapter.
Do i have to plug the audio cable from this device to the tv to get sound on the tv?
No the adapter comes with an audio cable that you plug into the computers audio out. this supplies audio to the HDMI Input for your TV.
Can i use the usb on the tv for the power source or does it have to plug into the pc?
I have no experience that allows me to definitively answer this query, but, theory is that the TV USB power source should supply the adapter unit and the signal sources should remain VGA to HDMI. I would give the TV USB port a little test to see if there is power out: e.g. plug in my cell phone and see if it begins to charge. IF it does then the power you need for the adapter is there and you should be good to go
Do i have to use the power connection or will my univ docking station have enough power to supply and run to my samsung monitor with the hdmi jack?
I have the USB power plugged into my docking station. It requires a power source.
Will this allow me to connect my Firestick to a vga connection on my projector and support audio
Sorry, this vga to hdmi adapter can't work with fire stick.
How long is the audio cable? Need to make sure it reaches the adapter.
The audio cable is 18 inches long .
My vga source has a resolution of 1280x1024@60hz (sxga). will this device change the resolution to 1080i/p, or will it remain unchanged?
What is included in the 2-year GEMETA Care Package?

It should remain unchanged because all that you're doing is converting the signal from VGA to HDMI and HDMI can handle 1280x1024@60hz. It's not a weaker HDMI signal that comes out of the converter. I could be wrong, but I don't understand how. You should be fine. Alex
Can't find an answer to your question?

Email us at service@foinnex.com

Free Shipping On Orders Over $30
Free worldwide shipping applies to orders of $30 or more.
There will be a 15% discount on the total price for the first order.
All of the products are covered by our 60-Day Return Policy.
All payment transactions are secured by multiple reputable payment gateways.